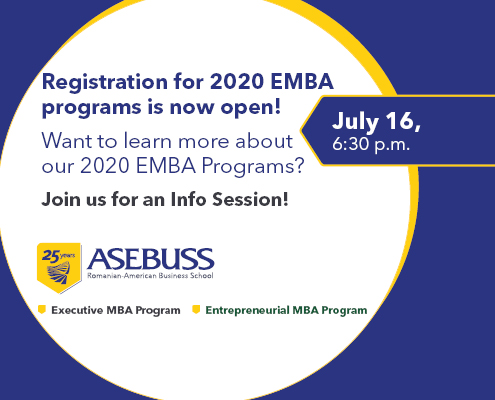 EVERYTHING YOU WANT TO KNOW ABOUT EMBA PROGRAMS
Are you looking for more information about MBA? Do you have questions about:
How will the classes be organized for 2020 cohort
Who are the participants in EMBA Programs at ASEBUSS
Which option works better for me: Executive MBA or Entrepreneurial MBA
How demanding are the classes?
I would like a practical approach. How practical are you?
Do you offer any scholarships?
Join us on July 16 to discuss together about the above aspects and any other aspects you are interested in before making a decision to start an EMBA.
If you are wondering why you should get an the ASEBUSS EMBA, here are 5 reasons our alumni are highlighting:
Achieve a long term vision and a business overview
"At first sight you may ask yourself why an entrepreneur would ever need an Executive MBA program. After all, there are so many successful business owners which don't have an MBA. However, if you want to achieve a long term vision for your business and you want to have competitive management principles at the core of your success, then the need for this type of education becomes apparent. For me it was a real gain and I get the return on investment in my daily business operations." Dragos Petrescu, Founder Trotter Prim
https://www.asebuss.ro/5-reasons-to-get-an-executive-mba-program/
Event Registration
https://www.asebuss.ro/wp-content/uploads/2020/07/Want-to-learn-more-2020-EMBA-Programs_495x400_noutati-site_01.jpg
400
495
Bianca
Bianca
2020-07-06 07:07:22
2020-07-08 09:42:12
2020 EMBA Programs- Everything you want to know