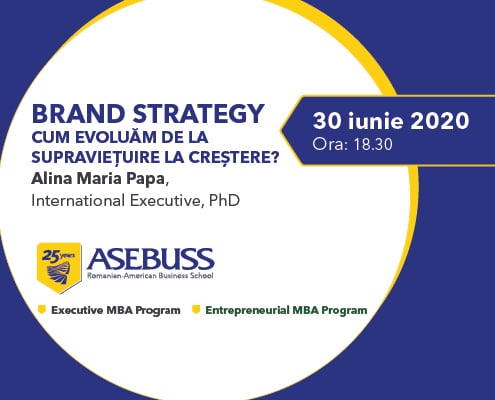 Pandemie, stare de urgenta, stare de alerta – au devenit cuvinte curente in vocabularul nostru si de business. O situatie pe care nu o concepeam acum cateva luni, pentru care niciun business nu a fost pregatit. Incepem sa ne obisnuim sa traim cu aceste cuvinte, DAR cum repornim businessul, astfel incat sa trecem de la starea de supravietuire la cea de crestere?
Cum a schimbat lumea Covid19?
Ce astepta clientii mei de la mine? Cum pot atrage clienti noi pentru businessul meu?
Ce rol joaca brandul in aceasta perioada si cat este de important?
Ce strategie de branding si comunicare adopt in aceasta perioada incerta?
Ce sa NU fac astfel incat sa imi afecteze businessul si brandul?
Esti antreprenor sau general manager, marketing/ communication manager/brand manager/sales manager al unei companii si intrebarile de mai sus sunt unele carora incerci sa le gasesti raspunsuri?
Participa la seminarul online unde discutam despre cum repornim motoarele in business:
Brand strategy in starea de noua normalitate – cum evoluam de la supravietuire la crestere?
De ce sa particip la acest seminar ?
Am informatii despre noile macro-trenduri privind mediul de business
Inteleg noul comportament al clientilor si factorii care ii influenteaza in procesul de cumparare
Sunt mai bine "echipat" pentru a lua cele mai bune decizii despre cum investim in actiunile de marketing si comunicare
Transform brandul intr-un levier puternic pentru a atrage clientii
Am o perspectiva mai clara despre cum pot creste businessul si brandul, in pofida contextului incert
Subiecte abordate :
Noul context social, macro – trenduri
Noul tip de consum mass media si noua maniera de a cumpara bunuri
Asteptarile pe care clientii le au de la branduri in aceasta perioada
Benchmark – cum au reactionat cateva dintre marile branduri in criza
Scenarii post-stare de urgenta:

Cum gestionam activitatile de marketing si branding sub starea de alerta? Cum le vorbim clientilor nostri actuali si viitori? Do's and Dont's
Este brandul tau pregatit daca se revine la starea de urgenta? – worst case scenario
Este businessul si implicit brandul tau pregatit sa reporneasca in forta? – best scenario
Speaker
Alina Maria Papa, International Executive
Sunt intotdeauna interesata sa vad posibilitatile dincolo de ceea ce este cunoscut, acceptat sau evident.
20+ years experienta in Marketing si Brand Communication la nivel global, international si national, pe toate aspectele legate de strategie, tactici, managementul echipei si bugetelor
Pozitia actuala: Head of Brands and Marketing for B2B and Mobility Solutions Bridgestone EMIA (Europe, Middle East, India, Africa) – Brussels
– Roluri anterioare: Brands Strategy Manager – Michelin Group (France), Social Media Manager Michelin Group
Sesiune Intrebari si raspunsuri
Participarea la discutii va fi organizata pe platforma Zoom. Link inregistrare:
Jun 30, 2020 06:30 PM Bucharest
https://zoom.us/meeting/register/tJAscOmrqTwrHtNZJcWmsTDaEfbbOpHFzmqw
Dupa inregistrare, veti primi un email de confirmare a participarii.
https://www.asebuss.ro/wp-content/uploads/2020/06/Brand-strategy-495x400.jpg
400
495
Bianca
Bianca
2020-06-12 08:51:47
2020-06-19 09:37:02
Brand Strategy - cum evoluam de la supravietuire la crestere