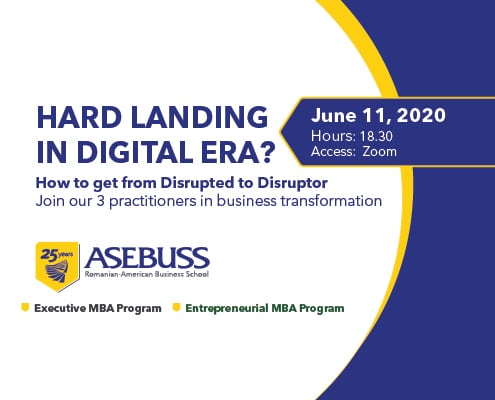 Hard landing in Digital Era?
How to get from Disrupted to Disruptor
The pandemic crisis is accelerating digital transformation in many companies, getting over long-standing resistance and silos and changing mindsets.
The crisis is also setting the agenda and the priorities of where to focus digital transformation efforts, such as improving operational efficiency, responding better to clients' needs or facilitating the changes required by remote workforce.
Still there is not a shared understanding of what digital transformation actually means especially when leaders and entrepreneurs were suddenly immersed into the digital era.
Hard landing in Digital Era?
How to get from Disrupted to Disruptor
Get the opportunity to meet and share ideas with 3 of our best practitioners in business transformation on June 11.
Yugo Neumorni     President CIO Council
Ciprian Negura      Founder, Skills of the Future

Vlad Bratasanu      Managing Partner, Digital Brick
Ready to find out more?
Digital Transformation asks businesses to rethink how they deliver value to their customers in a digital world.
Key issues
DT frameworks: Business Canvas, Digitally-born Start-ups
ExO Attributes
Digital transformation process – key success factors
Operational strategy in digital transformation
Mobile applications a gamechanger for digital transformation
Uberization and digital communities
The Master Class provides an opportunity to glimpse into or new Digital Transformation course that was introduced in both our programs: Executive MBA and Entrepreneurial MBA starting with the 2018 series.
 June 11
18.30 – 19.30    Master Class session
19.30 – 20.00    Q&A Session
 What you will learn:
Understand Digitalization and Digital Transformation
Learn to identify where Digitization has the biggest impact in your organization
Learn to assess the digital maturity of the organization
Learn about technologies employed and understand their importance
Registration Details
Participants to this Master Class are required to register to the event with their professional coordinates (Name, company, position) or a LinkedIn profile. The link to this Zoom session will be sent on the day of the event, until 15.00. Registrations are possible until June 11, noon time the latest (12.00).
https://www.asebuss.ro/wp-content/uploads/2020/05/Hard-landing-in-Digital-Era_featured-site.jpg
400
495
Bianca
Bianca
2020-05-31 05:57:52
2020-07-08 09:39:27
Hard Landing in Digital Era