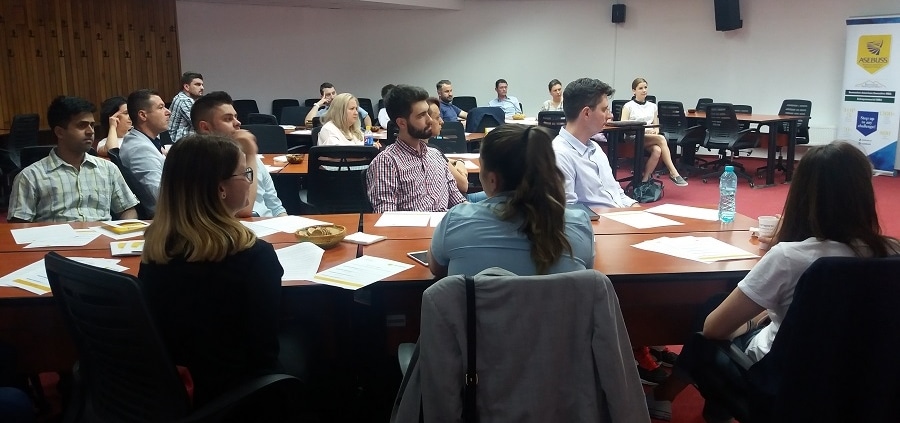 An Executive MBA is a high-level educational program for executives and leaders who wish to develop their leadership and careers, consider making a career move towards more strategic functions or aim to develop strategically their company.
At ASEBUSS we strive to offer you a unique learning experience, with focus on your leadership potential, global exposure and working in international teams, support and coaching for reaching your goals.
If you are wondering why you should get an the ASEBUSS EMBA, here are 5 reasons our alumni are highlighting:
Achieve a long term vision and a business overview
"At first sight you may ask yourself why an entrepreneur would ever need an Executive MBA program. After all, there are so many successful business owners which don't have an MBA. However, if you want to achieve a long term vision for your business and you want to have competitive management principles at the core of your success, then the need for this type of education becomes apparent. For me it was a real gain and I get the return on investment in my daily business operations." Dragos Petrescu, Founder Trotter Prim
Develop an efficient decision-making process
"The EMBA taught me to be confident and to take decisions. The team of faculty' professionalism, the quality of courses and teaching materials represented a permanent incentive for maintaining the high standards of the program. We always acquired answers which were adequate to reality and we were determined to think global and act local." Dan Bulucea, New Business Sales Director, Google Asia
Build a network of influential and experienced professionals
"I have already recommended this program, and now two of my colleagues are students in the first year. And I will continue to recommend this EMBA to any manager who, after some years of experience, wants to take a (complete) look over the business environment. The EMBA can help you learn how to excel at your current job or it can be a promotion opportunity for your own company, it can help you extend your own business, even globally, or it can help you establish a new one. And, let's not forget, I recommend this EMBA to anyone who wants to expand their own personal knowledge network." Victoria Igna- National Sales Manager AstraZeneca
"ASEBUSS was the business school I felt I could trust the most, with its almost 25 years of experience, the partnership with one of the biggest universities in the USA and, let's not forget to mention, the impressive number of graduates that hold top management positions in Romania's biggest companies or are successful entrepreneurs." Florin Joacabine, General Manager of Astal Security Technologies
Boost your international reach
"My biggest lesson during my EMBA experience is that you can try! Don't be afraid to try and to take your limit to places you never dreamed off.  I am saying all the time that the sky is the limit, but I didn't realize how true it is until I found so many case studies that provide me it is.
From the moment I finished my studies, I took my personal career to a place where I had not been before and applied my personal entrepreneurial abilities to developing the business  to new markets in new countries." Tal Lazar Operational Manager of Alpla Plastic and Shareholder in Sabon Romania
Grow your entrepreneurial mindset
"I have managed to achieve my initial goal. Together with my team, we managed to take Romanian Software to the next level. We have registered an increase in both revenue and total number of employees." Victor Dragomirescu, CEO Romanian Software
If you're already considering an Executive MBA, you're probably several years into your successful career. At ASEBUSS, the average age of our EMBA students is 35 years old, with an average of 9 years of work experience. This means that our EMBA participants benefit from learning together with like-minded, established professionals with a diverse set of skills and expertise.
Curious to learn more? Sign up for our next demo course or contact us to meet and discuss more. 
https://www.asebuss.ro/wp-content/uploads/2020/01/Foto_5-reasons_mica.jpg
506
900
Bianca
Bianca
2020-01-22 08:35:01
2020-01-22 08:35:42
5 reasons to get an Executive MBA Program