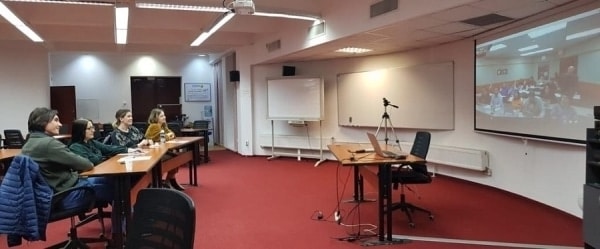 End of January 2020 our second year students in the Entrepreneurial MBA Program were the first cohort to join the international teams with their American MBA colleagues from the similar MBA program at Washburn University, USA.
 The international teams will work on multiple competition rounds of a business  simulation, which is part of the Strategic analysis course at Washburn University. The course focuses on strategic decision making within a simulated business environment.  Romanian and American students working in teams are required to produce both written and oral presentations utilizing the content of their prior MBA course work to explain the strategic decisions made throughout the simulation.   
ASEBUSS and Washburn University started their collaboration in 2019, offering to the Romanian and American MBA students the opportunity to study together and take advantage of a valuable international component.
Prof. Michael Stoica who successfully coordinates the joint international simulation stated that "the experience of working and taking decisions in international virtual teams enhances the learning experience of both American and Romanian students."
Following their participation in the international activities Romanian students will get a certification from Washburn University. ASEBUSS students  can also travel to USA at the end of the joint simulation and participate in Washburn campus activities.
ASEBUSS Business School is the destination choice for applicability, development of managerial and soft skills, networking and exposure to global best practices. We are the only business school in Romania that organizes 2 valuable MBA programs:
the long-standing flagship Executive MBA program in partnership with Kennesaw State University, Atlanta – a leader in innovative and learning, the 3rd largest university in Georgia state
the Entrepreneurial MBA Program focused on developing an entrepreneurial, growth oriented mindset, in partnership with Washburn University, USA. Washburn University is a premier public Midwest regional teaching institution recognized as a community leader in providing a superior student-centered, teaching-focusedlearning experience, preparing graduates for success in their chosen profession and stimulating economic vitality.
Curious to learn more? Read about our courses and contact us to meet and discuss more. 
https://www.asebuss.ro/wp-content/uploads/2020/01/29-Jan-sesiunea-Washburn-e1580479693313.jpg
249
600
Bianca
Bianca
2020-01-31 14:15:35
2020-01-31 14:16:36
Successful start of International collaboration in the Entrepreneurial MBA Program