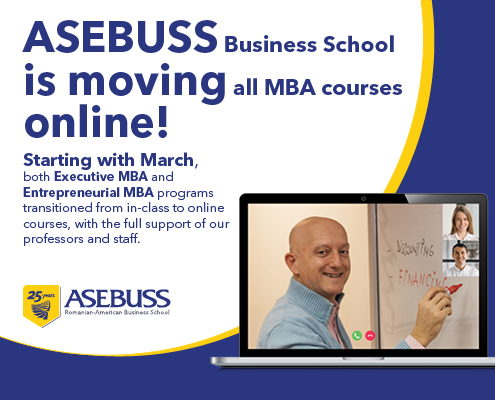 Time of Change
As you probably read in the last few days, ASEBUSS Business School moved to online delivery since mid-March.
How was this process you may wonder?
Let me give you some information behind the scenes. At national level, due to coronavirus situation, all schools had already been announced to close starting with March 11, while at university level the decision was left at the choice of each organization, based on academic autonomy. We chose security for our students and staff and decided to move the courses online. I was aware our next Executive MBA classes were planned for Friday, March 13 and Saturday, March 14.
At this time of year I am usually teaching the Financial Management course for our first year Executive MBA participants which – between you and I- it's quite a challenging course😊. And my course was scheduled in the morning, therefore any decision we would take I would become the first to act on it. What a great way to be both the leader and the doer in such a unique situation! With just one day before to practice and prepare the materials for the new remote approach, I had really little time to fear about online teaching. And here I am on Friday morning in the empty classroom, launched in online! 3 hours later feeling relieved to see it worked out great, our students lived up to the challenge and were very engaged and supportive!
My colleague, Lavinia Rasca was the second to start her online teaching for Strategic Management course, while Alex Craciun had his course the next day, Operations Management for 2nd year Executive MBA students, all of us using Microsoft Teams.
Three online sessions later I feel that moving the classes online didn't impact the quality of our courses. We are still using case studies, working interactively and encouraging debates both in smaller groups and as a whole cohort too.
In the following days, other colleagues will follow the online path, including our team presentations with Kennesaw State University this weekend (4th of April,) and Washburn University in May. We did it! And the future from now on it will bring blended-learning for sure,  a carefully balanced mix of face-to-face and online learning to benefit of best of both worlds😊.
Stay safe my friends, yours Ovidiu.
https://www.asebuss.ro/wp-content/uploads/2020/04/ASEBUSS_online-495x400.jpg
400
495
Bianca
Bianca
2020-04-02 10:01:42
2020-04-02 10:31:00
Time of Change