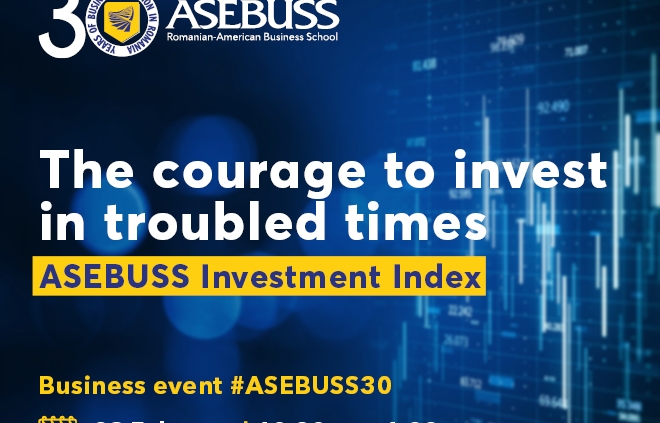 What are managers and entrepreneurs investing in 2023 and what are the biggest challenges they face from this point of view? How much budget do companies allocate to sustainability investments and what transformations are already being observed?
On February 28 entrepreneurs and managers invited to the event 'The courage to invest in troubled times' organized by ASEBUSS Business School will answer these questions and many others. You can find the registration here.
In 2023, on the occasion of 30 years of activity, ASEBUSS is organizing a series of thematic events for our community of over 1.500 graduates. During the first anniversary event, ASEBUSS will also launch the first results of the "ASEBUSS Investment Index Survey", a quarterly study that will provide a complex picture of the investment climate in Romanian companies.
PANEL SPEAKERS
 Radu Craciun – ASEBUSS Macroeconomics Professor& President and BCR Pensii Romania
Monalisa Ungureanu – CEO Agrii Romania
Eugen Serbanescu – Co-Founder GSP Consulting
MODERATOR
Ovidiu Dimbean – ASEBUSS Rector&Finance Professor 
More than 56% of the ASEBUSS alumni increased their investment expenses in the company they lead in 2023 compared to the previous year, according to the results of the "ASEBUSS Investment Index" survey conducted in January 2023 on a sample of over 230 managers and entrepreneurs, both graduates and students in the ASEBUSS EMBA programs.
A significant percentage of business people responded they allocated more than 20% of the company's spending budget for investments in 2023, despite the uncertain economic context, with an overlap of crisis (inflation, war at border, energy prices)
In the state sector, investments fail to exceed 7-8% of Romania's total spending busget, despite the non-reimbursable financing that Romania has had access to in the recent years
The business environment acts faster and allocated resources more efficiently, and this is also seen in the results.
The event will be organized on February 28, between 10.30-13.00 at ASEBUSS location, Bd. Expozitiei 1B. Participants are ASEBUSS alumni, students, professors and collaborators. By invitation only for ASEBUSS location. Live transmission on Facebook
https://www.asebuss.ro/wp-content/uploads/2023/02/Business-Event-30-ani_495x400.jpg
533
660
Bianca
Bianca
2023-02-08 15:35:57
2023-03-01 13:22:33
The courage to invest in troubled times - 28 February