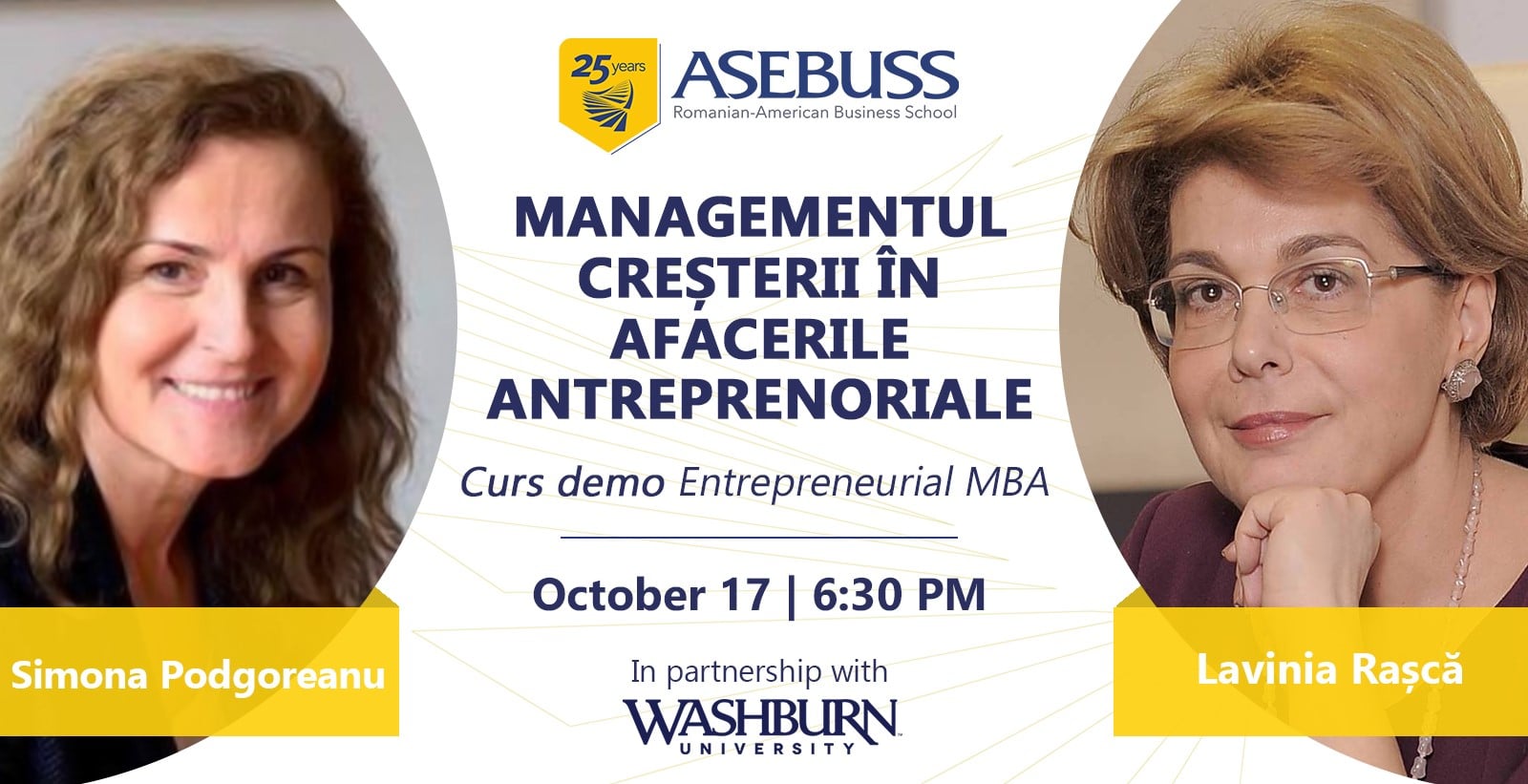 On Thursday October 17, we organize a special Master Class:  Growth Management in entrepreneurial companies and we will discuss about the challenges for entrepreneurs and managers with an entrepreneurial approach. Lavinia Rasca and Simona Podgoreanu – two of our professors- will moderate discussions based on a case study, with an interactive approach. You will get relevant information and various approaches to evaluate management situations.
Key discussion topics: 
The 3 essentials of the strategic thinking ;
Why entreprenors fail even when strategy is clear? The do's of a strong strategy execution;
The best moment to introduce change in your company and the 4 managerial behaviors that generate the change that you want;
How strategic thinking and entreprenorial spirit of a leader generate organisational growth;
Agenda October 17
18.30 – 19.00  Entrepreneurial MBA 2019 Presentation
 19.00 – 20.30  Growth Management in entrepreneurial companies Lavinia Rasca si Simona Podgoreanu.
Participating in our Master Class session you will gain:
The opportunity to participate in an interactive debate around a relevant case study;
The acces to ASEBUSS top experts team of professors;
Networking with other entreprenors willing to develop their business skills;
Relevant information regarding how to benefit from our one time events offer to access the Entreprenorial MBA ASEBUSS;
Offer at event
Participants will benefit ONLY DURING THE EVENT from an exclusive financial  offer for registration in Entrepreneurial MBA 2019 Program.
Registration for event is based on sending your LinkedIn profile or your complete professional coordinates to emba@asebuss.ro. More information : 0722 368 602.
https://www.asebuss.ro/wp-content/uploads/2019/10/Macheta-mica-site.jpg
967
1035
Bianca
Bianca
2019-10-01 09:33:29
2019-10-01 09:45:00
Growth Management in Entrepreneurial Companies