CEO Event – October 14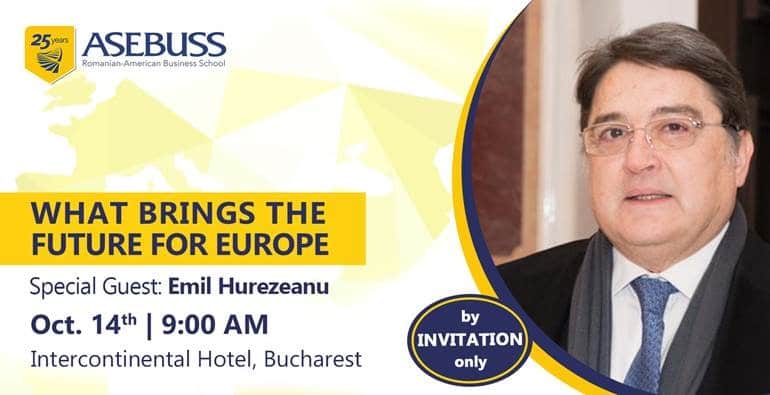 ASEBUSS is organizing the event "What brings the future for Europe", on Monday, October 14 between 9.00-11.00 am, at Hotel Intercontinental.
 Special guest is Emil Hurezeanu – reputatable journalist, analyst and diplomat, together with Radu Craciun, Macroeconomics professor at ASEBUSS.
Moderator: Ovidiu Dimbean, Rector ASEBUSS.
ASEBUSS continues to be a leading business school in Romania, with both Executive MBA and Entrepreneurial MBA programs for top and middle managers or business owners, being constantly focused on trends and strategic directions in management si leadership.
The event on October 14 –addressed exclusively to top managers – will be a great opportunity to debate with our guests and the entire audience a topic of broad interest: Europe in current context and possible scenarios for the future.
Participation is by invitation only. For more information please contact +40 722 368 602.
https://www.asebuss.ro/wp-content/uploads/2019/09/Macheta-14oct_resize.jpg
384
385
Bianca
Bianca
2019-09-30 14:26:31
2019-09-30 14:26:31
CEO Event- What brings the future for Europe