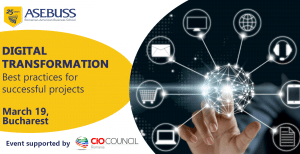 We are pleased to announce our next Alumni Event which will take place on March 19.
ASEBUSS in partnership with CIO Council ROMANIA are organizing the Digital Transformation event where key experienced speakers from the business community will share their experience in the digital transformation projects.
About the presentation topics
The pace of change in digital transformation is exponential. There are new ways to engage with customers, more innovation in the workforce and more opportunities to harness data insights as just a few of the benefits that digital transformation brings.
Digital transformation is no longer an initiative used by progressive companies, it is a requirement to survive and grow. Every decision needs to be informed by the bigger picture, organizations can't afford to just react to the news.
Join us for a top level event which brings together:
SPECIAL GUEST: Sergiu Manea, CEO Banca Comerciala Romana
Yugo Neumorni     President CIO Council
Bogdan Tudor        CEO&Founder, StarTech Team
Vlad Bratasanu      Managing Partner, Digital Brick
AGENDA March 19
18.30 – 19.00    Networking.Building Connections
19.00 – 20.30    DIGITAL TRANFORMATION
                               Best practices for successful projects
The event will be moderated Prof. Ovidiu Dimbean – Rector ASEBUSS.
Ovidiu Dimbean attended business management courses at Harvard Business School and finance specialization at Wharton. He is a practitioner with a rich experience of more than 20 years in the financial area, during which he was part of the top management of multinational or Romanian companies such as Eli Lilly, Arctic (Arcelik), Topway Industry, Flanco, InfoPress, Lowe and Partners.
Between 2011-2018 Ovidiu Dimbean was Dean of ASEBUSS School of Business, top business school with an international partner Kennesaw State University, Atlanta, located in the top 25 schools in North America. Starting November 2018 Ovidiu Dimbean was elected Rector of the Institute for Business Administration – ASEBUSS.
More about the topics of discussion
Digital technology has only begun to penetrate industries, the implications for revenues, profits, and opportunities will change the current economic landscape, according to HBR Research.
87% of senior business leaders say that digitalization is now a priority and in many cases is a do-or-die imperative – (*) Gartner's Top Insights for the, C-Suite 2018-2019.
Digital transformation, blockchain, quantum computing, augmented analytics and artificial intelligence are driving disruption and new business models. 5G networks will create the environment for the IoT, smarter grids, autonomous vehicles, and virtual reality.
Key issues
• Technological innovation
• Cybersecurity threats and opportunities
• Understand strategies, implement and manage new digital technologies
• Competing with data driven born organizations.
• Transforming data into insights for making better business decisions.
• Artificial intelligence
• Financial industry competitive dynamics.
• Process redesign and automation
• IoT & Blockchain technology potential in different industries
Participants
The event is addressing top and middle management executives from organizations, regardless of industry, who want to keep abreast of developments in the four areas: geopolitics, economy, demography and technology, to devote more time to reflection on of global developments and to have as an essential objective to increase the flexibility of the companies they lead.
Financial Contribution
ASEBUSS Alumni  & Exec-Edu Alumni                           40 euro
ASEBUSS Students and ASEBUSS Alumni Members  25 euro
Participants outside the ASEBUSS network                   60 euro
Register at emba@asebuss.ro and you will get the sign up form followed by the invoice.
The location of the event will be announced later to all those who sign up or are interested to participate.
https://www.asebuss.ro/wp-content/uploads/2019/02/digital-transformation-v4-1.jpg
600
900
Bianca
Bianca
2019-02-19 10:44:25
2019-03-22 13:52:21
Digital Transformation - Best practices for successful projects