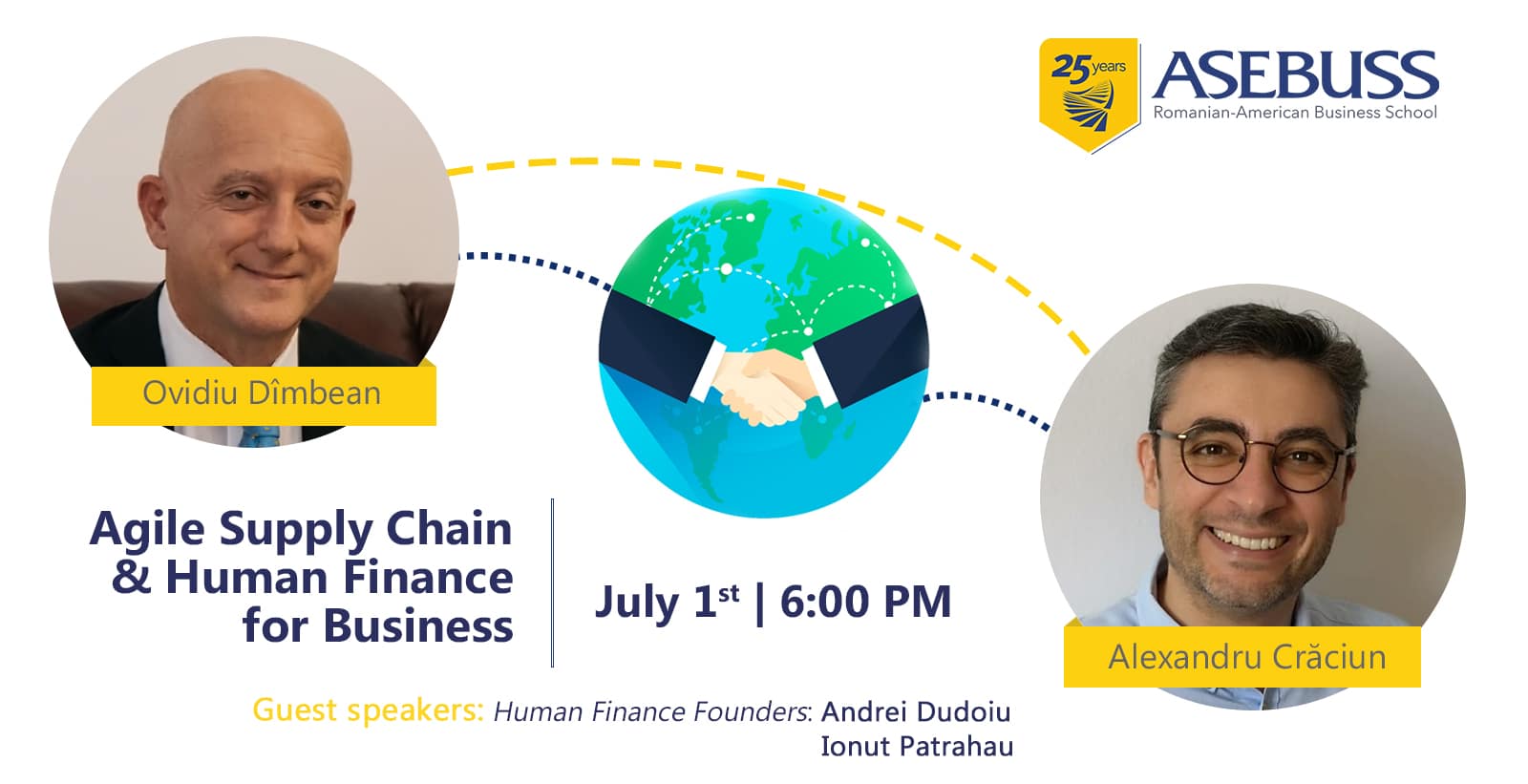 Agile Supply Chain&Smart Finance for Business
We are happy to invite you on July 1 to a special session on Agile Supply Chain&Smart Finance for Business, with Prof. Ovidiu Dimbean and Prof. Alexandru Craciun.
Company owners and business professionals need to better understand what is happening in their company from a financial and operational perspective. This session will offer you the key financial and operations knowledge to run your business more effectively.
Ovidiu and Alexandru have extensive practical experience from various industries and they will present and discuss a few key concepts about:
– Proactive working capital management
– "Other people money" sensitivity between suppliers and customers
– Efficient supply chain vs. responsive supply chain;
– End to end visibility as a key component of the responsive supply chain
Agenda
18.30-18.45     Master of Business Administration- 2019 Overview
18.45- 19.30   Agile Supply Chain&Smart Finance for Business. Prof. Alexandru Craciun and Prof. Ovidiu Dimbean
19.30 – 19.40  Break
19.40 -20.30 Case Study: Human Finance – the education and funding platform that matches the innovative and ethical entrepreneurs with the appropriate investors. The entrepreneurial journey of the founders, former bankers and corporate employees 😊 Guest speakers: Ionut Patrahau and Andrei Dudoiu 
ASEBUSS MBA brings a real benefit to owners of medium and small entrepreneurial companies, and also to innovative start-ups, dealers, resellers, small producers, franchisors as well as business professional working in entrepreneurial companies, etc.
Participation is free, however advance registration is required. Please send your interest for participation at  mba@asebuss.ro or 0722 368 602 and we can confirm you a seat. Location: ASEBUSS headquarters, Calea Grivitei 6-10.
https://www.asebuss.ro/wp-content/uploads/2019/06/Intro-Agile-Supply-Chain.jpg
798
1030
Bianca
Bianca
2019-06-19 12:52:34
2019-07-29 08:12:27
Agile Supply Chain&Human Finance for Business