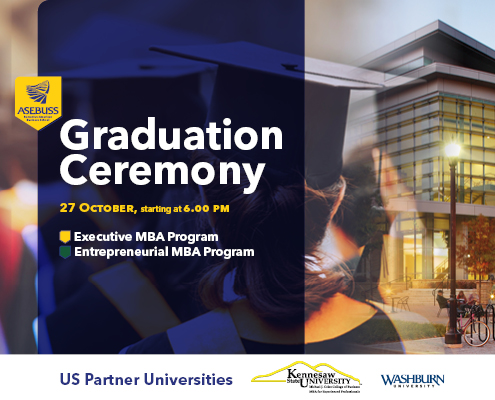 On October 27, almost 100 alumni took the stage to receive their hard-earned degrees from the Romanian-American Executive MBA and Entrepreneurial MBA in the last 3 years. As previous alumni will confirm the learning journey is a demanding and provocative undertaking that requires support from both organizations and families alike.
Our  top-ranked Executive MBA Program offered in partnership with Kennesaw State University provides a world-class curriculum and emphasizes career and leadership development. Participants travelled to Atlanta U.S. during the International Residency Week, where they attended courses and workshops in campus, met other Romanian experienced professionals, as well as took part in several company visits at well-known companies with HQ in Atlanta: Coca-Cola, Honeywell, Norfolk Southern Atlanta. Executive MBA participants have an average of  9-10 years of significant work experience and work for a diverse set of multinational and local employers, including: Cluster Power, Romanian Software, BRD, Tiriac Auto, RINF Tech, DontPayFull, Publicis, Dona Group, UniCredit, Helpnet&Farmexim, BricoStore, Alstom and many others.
Graduates of the Entrepreneurial MBA Program are professionals who aimed to develop their entrepreneurial mindset, whether they are business owners or managers coordinating intrapreneurial business projects within companies. Multinational and Romanian companies are represented in the program, such as: BCR Pensii, Oracle, Austral Trade, CityGrill as well as other businesses owned by the participants, in B2B or B2C industries.
"So we climbed the mountains of accounting, finance and macroeconomics, we swam through the blue and red oceans of strategy and marketing, we negotiated our way through the tight passes of HR and operations and we travelled across the borders of management and digitalization[…] and everyone congratulated us and told us … great job, you're finally done. You did it. You finished. Congrats. You're done.
"I think that for many of us the Executive MBA was somewhat of a turning point in our lives, and if nothing else it was the proof of our determination and ambition to turn things around, as we all know that pretty as it was, it was not easy!  More importantly, I think it is fair to say that we have all progressed in our professions and in our personal lives, and for this, as for our long awaited diplomas, we, my friends and colleagues, deserve to be congratulated!!!" Carmen Georgescu, Chief Customer Officer, ClusterPower, Alumni Representative EMBA 2020
Well, here comes the first secret of the day. We're NOT done ladies and gentlemen. We've only just started. We're the same explorers, now with a GPS and a satellite instead of a magnetic compass and a paper map. We're not done, we're only starting to shape the world around with everything that we learned here in ASEBUSS. " Mihai Chiriacescu, Consumer Marketing Director, PPD Global, Alumni Representative EMBA 2021
'I would like to wish all alumni the best for their future and welcome them into the ASEBUSS community. We hope you will continue to learn and take advantage of your peer network for inspiration on how to keep striving for leadership excellence!' Bianca Ioan, Marketing Director, ASEBUSS Business School
This special ceremony gathered together the last 3 generations which were awarded their diplomas and got the well-deserved recognition for successfully completing the program!
Thank you to our presidium members, our professors from ASEBUSS and Kennesaw State University and to all our guests for being part of this!
https://www.asebuss.ro/wp-content/uploads/2022/11/Graduation-Ceremony_495x400.jpg
400
495
Bianca
Bianca
2022-11-01 09:45:52
2022-11-01 10:48:53
Almost 100 recent alumni joined our ASEBUSS community